---
NEW! Fall 2008 African Drumming Classes at the Hooked On Drums Studio!
The Djembe Drumming Woodshed, taught by Jim Banks of the Chicago Djembe Project
Saturday Morning Beginning Class: 10-11:30 am
Starts September 20, 2008 — 6 weeks
$120/adults, $90/youth 13-17 years old

Returning CDP Students: If we are teaching a rhythm you've studied with us before, you may be eligible for a discount. Contact us for details.
RESERVE YOUR SPACE. REGISTER NOW!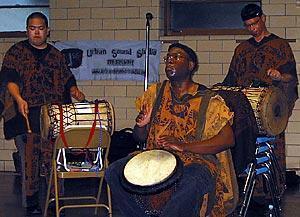 CDP Instructor Jim Banks (center) performing with students
Walter Afable (left) and Steve Foster, Summer 2003.
The djembe is one of Africa's most popular drums, and is now played all over the world. If you're new to the djembe and want to get a good foundation in djembe music, playing techniques and history, come to the Djembe Woodshed.
In 6 weekly classes with the Chicago Djembe Project, you'll discover the basics of djembe drumming while learning a traditional djembe piece from the Malinke people of Guinea, West Africa, the creators of the djembe. What's more, you'll learn how to play the 3 bass drums called dunun which provide the melodic foundation for the djembe drums.

Woodshed students Valerie Hardy, Alicia Matthews and Tony Brown, Summer 2003.
You'll receive notes and notation handouts for practicing at home, and we strongly recommend that you bring a tape recorder so you can review and practice during the week. We'll provide the bass drums--just bring your djembe. We also have extra djembes for use during the class--let us know if we should bring one for you.
About the Instructors
The Woodshed is taught by CDP Manager/Instructor Jim Banks. CDP has offered intensive workshops, youth programs and performances in Chicago since 1999. Our classes are based on a combined 20 years learning, performing and teaching the Malinke djembe drumming tradition from Guinea, West Africa. We promote respect and cooperation across cultures and genders through the African Djembe Drum Tradition. Click the links for complete biographies and information on the Chicago Djembe Project.

Woodshed students Tony Brown, Walter Afable and Chris Ellis, Summer 2003.
---
LOCATION, DIRECTIONS, REGISTRATION INFO & FORM | ABOUT THE CHICAGO DJEMBE PROJECT | MORE ABOUT THE DJEMBE WOODSHED